The drilling process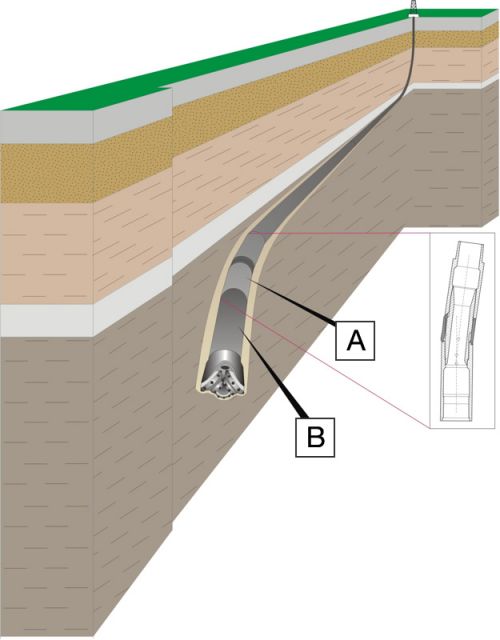 Directional drilling, showing the steering assembly (A) and downhole motor (B)
The drilling bit rotates on the rock and, with the weight of the drill string above it, grinds and crushes the rock into small particles known as cuttings. These cuttings are then flushed away from the rock surface using a water based fluid known as drilling mud. This fluid is pumped down through the drill pipe and out of small ports in the bit to wash away the cuttings and then flows back to the surface of the well. The drilling fluid is referred to as "mud" because of its appearance. It is composed primarily of water but also a range of approved additives, such as bentonite clay, as required, to adjust its density, viscosity and compatibility with the rock.
When the drilling mud reaches the surface the cuttings are separated from the mud using moving mesh filters, known as "shakers". They are then further separated from the liquid mud and treated prior to being transported to an approved disposal site.
During the drilling of the well, the progress of the operation will be monitored constantly and a range of tests and analyses carried out. The drilling process can last anywhere from a few weeks to a few months depending on the depth of the target reservoir and the type of rock being drilled.
On some wells, the subsurface target is not directly below the surface location and directional drilling technology is used. This allows the well to drill at an angle and reach a location that may be several hundred metres away. In development drilling (especially offshore, where the wells are drilled from a central location) wells can be drilled to locations several thousand metres away from the surface point.
Once the target formation is reached a series of specialised tools (known as "logging tools") are run to evaluate the formation and the fluids to confirm if hydrocarbons are present.
If hydrocarbons are present then a flow test is usually performed to evaluate the production potential of the well. These flow tests [known as "well tests" or "drill stem tests (DSTs)"] typically take one to two weeks. During this time, any produced gas is normally flared and liquid hydrocarbons (oil or condensate) are stored onsite in tanks and trucked to a local refinery.
If the presence of hydrocarbon reserves is confirmed to a scale that is commercially viable, we would have to submit another planning application outlining how we would produce this resource. We would also normally have to apply for a production licence.